PCB/PCA Testing Solutions
PCB/PCA Testing Solutions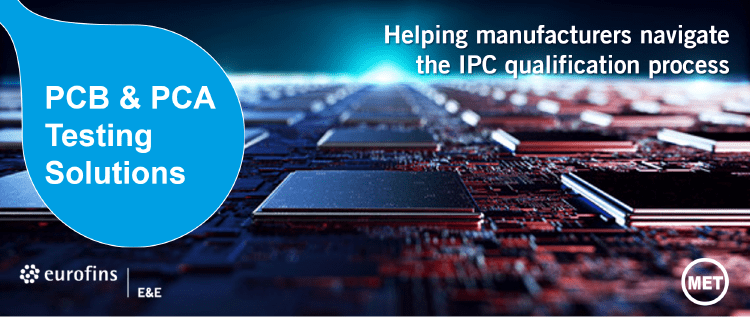 Printed Circuit Board (PCB) and Printed Circuit Assembly (PCA) Services
Testing | Inspection| Qualification | Consultation | Training
Helping you deliver high-performing electronic products to any market through comprehensive PCB/PCA testing.
As technology continues to evolve, electronic products become more compact and serve multiple functions. This directly affects the printed circuit industry and makes it necessary for PCBs to be smaller and in some cases more flexible while still meeting performance standards.

Whether it's PCBs, PCAs, or complete electronic products, Eurofins E&E North America (formerly MET Laboratories) can fulfill your testing needs. We can help you qualify your products even down to the material level—laminate, copper, solder mask, conformal coating, final finishes, soldering materials, adhesives, marking inks, components, and more.
We understand that compliance and reliability are critical. As the very first OSHA-accredited NRTL (Nationally Recognized Testing Laboratory)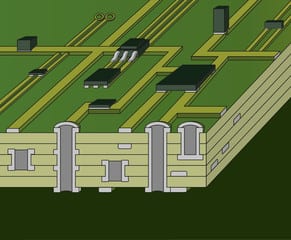 , Eurofins has the knowledge and expertise you need. We are proficient in testing all levels of electronic products. Our PCB/PCA testing approach ensures that your components are qualified to ensure optimal performance.
Eurofins tests to IPC Standards and many other international, national, and regional requirements, including ASTM, MIL, UL, and IEC. (See our testing standards here and here.)
PCB/PCA Testing – IPC Qualification Process
We help you navigate the IPC qualification process for the following components and standards:
Printed Circuit Boards (IPC-A-600, IPC-6012, IPC-6013)
Printed Circuit Assemblies (IPC-A-610, IPC J-STD-001, IPC-9202)

Including Assembly Process Validation

Soldering Fluxes (IPC J-STD-004)
Solder Pastes and Solder (IPC J-STD-005 and IPC J-STD-006)
Conformal Coatings (IPC-CC-830)
Solder Masks (IPC-SM-840)
Laminates (IPC-4101 and others)
Helping You Get to the Root Cause of Field Failure Returns   
External and Internal Printed Circuit Board (PCB) and Assembly (PCA) Open and Short Circuits (Intermittent or Sustained)

Surface Insulation Resistance (SIR)
Electrochemical Migration (ECM)
Moisture & Insulation Resistance (MIR)
Conductive Anodic Filament (CAF)
Bare Board design failures
Assembly Process Validation
PCB/PCA Cleanliness Issues
Catastrophic Failures (PCA catching fire)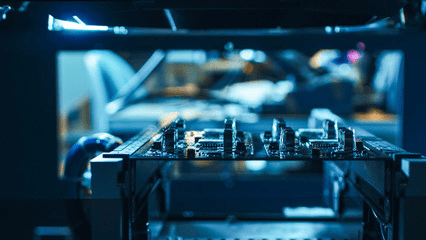 Eurofins E&E provides the PCB/PCA testing expertise and world-class facilities required to meet your development schedule and compliance needs for market acceptance.
Let us show you the Eurofins E&E difference!
For more information about our PCB and PCA testing capabilities, CLICK HERE to contact us.