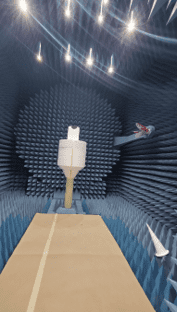 Eurofins Electrical & Electronics (E&E) North America, part of the Eurofins global network of laboratories, is pleased to announce that it is now able to provide FR1 5G sub-6 and FR2 5G mmWave over-the-air (OTA) pre-testing at its Santa Clara lab facility. OTA Performance Testing
For 5G FR1 (sub-6) OTA testing, Eurofins utilizes the ETS AMS-8815. This theta arm-based anechoic chamber features a frequency range from 400MHz to 10GHz, making it suitable for all FR1 customer testing needs.
For 5G FR2 (mmWave), Eurofins utilizes the ETS AMS-5705 Compact Antenna Test Range (CATR) chamber, which is an ideal solution for 5G mmWave OTA testing. This AMS-5705 chamber is optimized to handle mmWave antenna arrays up to 30cm in diameter and covering a frequency range from 18GHz to 50GHz. Eurofins E&E North America is one of the first commercial labs to commission the mmWave testing chamber.
Both chambers are integrated with the MT8000A and MT8821C state-of-the-art equipment from Anritsu. OTA Performance Testing
"With our latest 5G OTA capabilities, we are pleased to offer a wide range of OTA performance testing services for wireless and radio devices," said Eleazar Zuniga, Director of Wireless Technologies for Eurofins E&E. "These new services allow us to develop a custom testing process based on our customers' requirements."
"It is quite exciting for our Santa Clara facility to offer cutting-edge 5G wireless testing services," said Mark van Horck, Senior Vice President, E&E Product Testing International. "It was a priority for Eurofins E&E to acquire the equipment, experience, and expertise to provide the latest in wireless performance testing, inspection, and certification solutions."
Eurofins E&E North America, the very first NRTL delivering MET Mark certification, is a preferred provider of product safety and regulatory testing, inspection, and certification for electrical and electronic products.
About Eurofins
Eurofins E&E is part of Eurofins Scientific, an International group of laboratories headquartered in Luxembourg, providing testing and support services to the pharmaceutical, food, environmental, agroscience, and consumer products industries, among others. The Eurofins group is one of the international leaders in the provision of testing services with a network of more than 800 laboratories across 47 countries. Through research and development, in-licensing and acquisitions, the group draws on the latest developments in every industry it serves, while helping corporations deliver safe and compliant products through responsible and sustainable sourcing practices. For more information about the Eurofins Group, visit https://eurofinsus.com.