Medical EMC Testing
The medical industry is rapidly adopting new and innovative technology which not only enables better communication and performance of products but also has systems to improve the safety of the patient. Technologies such as WLAN, Bluetooth, UWB, RFID, and NFC can both enhance the capabilities of medical devices but can also pose some serious problems with interference. Because many electro-medical devices could put a patient's life at risk if they are affected by EMI around them or emit disruptive EMI themselves, it is vital that these products be thoroughly tested.
Importance of EMC Testing for Electro-Medical Devices
When electronic devices are used in medical applications, there are critical safety and performance requirements that serve two key purposes: ensure safety and compatibility with other critical care equipment, and to reduce unacceptable risk to patients. In the context of EMC testing, the goal is to demonstrate that your product performs as expected when subject to its expected electromagnetic environment.
The Challenges of Electro-Medical Regulations
EMC and performance testing of medical equipment and implantable devices ensures the electromagnetic compatibility regarding basic and essential performance according to applicable emissions and immunity requirements. One of the major challenges faced by medical device designers and manufacturers is the continuously evolving regulations and standards that make compliance difficult — but not impossible. However, you cannot afford delays or fines associated with your product not being in compliance with applicable regulations and regional standards.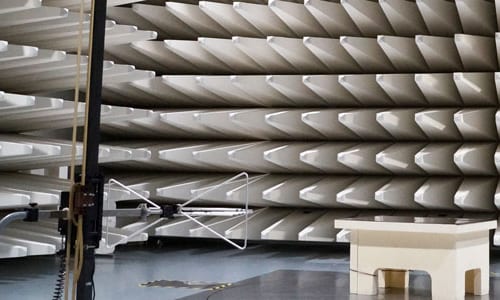 IEC 60601-1 Standards
Worldwide medical devices are controlled by stringent regional approval procedures, and these procedures usually involve testing performed by an approved laboratory. For active medical devices, the requirements are documented and harmonized under the standard family IEC 60601.
Right now, the IEC 60601-1 3rd edition is the base for the approval procedure of medical electrical equipment in most regulatory frameworks all over the world. Because the requirements of the European Union's EN 60601 family of standards are identical to the Medical Device Directive (MDD) 93/42/EEC, the IEC defines the assumption of conformity to it.
Under medical EMC standard IEC 60601-1-2, medical devices are expected to perform according to their intended use and remain safe (i.e., essential performance and safety requirements). IEC 60601-1-2 defines the basic and essential performance for medical equipment in regard to emissions and immunity to EM disturbances.
IEC 60601-1-2 applies to the basic safety and essential performance of medical-electrical equipment and systems in the presence of electromagnetic disturbances as well as electromagnetic disturbances emitted by the equipment and systems.
IEC 60601-1-2 4th Edition introduced some significant technical revisions including risk management, risk analysis, and changes to immunity requirements. These changes include specification of immunity test levels according to the environments of intended use categorized according to locations that are harmonized with IEC 60601-1-11: the professional healthcare facility environment, the home healthcare environment and special environments.
FDA Regulations for Medical Devices
In the United States, the Food and Drug Administration (FDA) is another regulatory body with requirements for medical devices to ensure that once they reach the market, they are both safe and effective. FDA regulations include classifications for thousands of device types grouped into 16 medical specialties. This includes Class I – General Controls, Class II – General Controls and Special Controls, and Class III – General Controls and Premarket Approval. Not only does the classification of your medical device depend on its intended use and indications for use, but classification also depends upon risks posed to users and patients. Keep in mind that your products must be listed with the FDA before they can be commercialized.
Common Medical Device EMC Tests Performed
Typical tests performed on electro-medical devices include electrostatic discharge testing (ESD) to simulate electrostatic impacts that the device might be subject to during its normal operation. Radiated emissions and immunity testing measure the strength of EM emissions from your product to determine if they fall within acceptable limits We also offer pre-compliance testing to determine if your products are on track for meeting regulations and, if they are not, determine where the potential problems are coming from.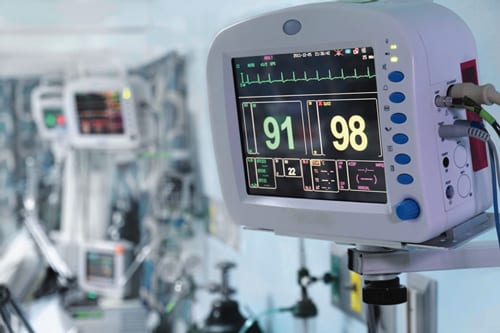 MET Labs is an Internationally Recognized Testing Facility
EuroFin's MET Labs has a highly skilled and well-equipped mobile team for on-site and in situ EMC testing which can cover frequency ranges from DC to 40 GHz. This testing provides measurements on:
MET Labs is the nation's first OSHA Nationally Recognized Testing Laboratory (NRTL) as well as the leading National Certification Body (NCB) and CB Testing Laboratory (CBTL) in the IECEE CB scheme. Most of our medical testing is performed according to EN/IEC 60601-1-2 for most devices. Additions and/or deviations to the requirements of 60601-1-2, as published in the appropriate EN/IEC 60601-2-XX for particular devices, may also be applicable. We also perform testing related to ANSI ISO 14708-3 – Implants for surgery – Active implantable medical devices – Part 3: Implantable neurostimulators.
The MET NRTL mark, the first officially recognized by OSHA, indicates compliance to required standards for workplace safety which include hospitals, clinics, therapy centers. We issue the results in test reports and certificates for IEC International Standards which can then be used to obtain product safety certification in the participating member countries for electro-medical devices.
Our EMC testing capabilities include IEC/EN 60601-1 3rd Edition, UL 60601-1, AAMI ES60601-1, and CSA C22.2 No. 601.1. We can also test electrical wheelchairs to ANSI/RESNA/FDA/EN requirements including RESNA WC-1:2009 and perform complete testing for active implantable devices (ISO 14708) and battery safety testing.
Contact MET Labs Today!
MET Labs is a one-stop-shop for electrical product safety, electromagnetic compatibility (EMC), RFID susceptibility, and FDA submissions for medical devices to verify compliance with major standards including 60601, ISO 14708, and international regulations.
We perform prototype evaluations, pre-compliance testing, and full-compliance testing and certification in our state-of-the-art 3-, 5-, and 10-meter EMC chambers. These chambers are specially designed and equipped to evaluate your medical device to requirements within the EMC Directive, including IEC 60601-1-2 and IEC 60601-2-x particular standards.
Why not make us your partner for medical device testing, certification, and global market access — you will be confident in the compliance of your product and get it to market faster and easier with Eurofins| MET Labs. Contact our knowledgeable team today!