Over-The-Air Testing
What is OTA Testing?
Over-The-Air (OTA) testing is a method that involves testing wireless devices, such as smartphones, notebooks & tablets, wearables, and Integrated devices for their wireless performance.
OTA testing is crucial to ensure that your devices meet the requirements set by the industry standards from the CTIA Test plans which include SISO (Single Input Single Output), A-GNSS (Assisted GNSS), MIMO (multiple-input and multiple-output ) and CWG (Wi-Fi Mobile Converged Devices) and the  3rd Generation Partnership Project (3GPP) test plan for OTA Antenna Performance  From the specification 3GPP TS 34.114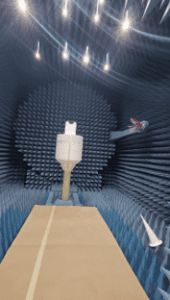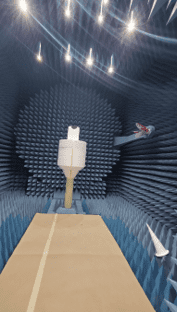 Our Services
Eurofins E&E in Santa Clara offers a range of OTA testing services for GERAN (2G), UTRA (3G), E-UTRA (4G) and NR (New Radio) 5G for FR1 and FR2 cellular technologies along with the Converged Wi-Fi Alliance requirements for devices supporting both Cellular and Wi-Fi for Wi-Fi Alliance certification.
Santa Clara laboratory is accredited by the American Association for Laboratory Accreditation (A2LA) and the CTIA as an CTIA Accredited Test Lab (CATL) which allows our testing to be accepted by the PTCRB cellular certification forum, multiple cellular carriers in North America included the Big 3 AT&T, Verizon and T-Mobile. The accreditation by the Global Certification Forum under their Recognise Test Organisation allows the laboratory to provide services for GCF Certification which is acceptable by multiple cellular carriers world-wide.
Our testing services are designed to help manufacturers, carriers, and other organizations to ensure good performance and quality of their wireless devices.
Who Needs OTA Testing?
Any organization involved in the design, manufacturing, or distribution of wireless devices may require OTA testing. This includes mobile device manufacturers, carriers, and other wireless service providers. OTA testing is important for organizations that use wireless devices in their service offering, such as medical, transportation, smart cities, IoT and public safety agencies.