History
MET Laboratories Inc. was founded by Leonard Frier as Maryland Electrical Testing in 1959. As the customer base quickly expanded across the nation, the name was changed to MET Electrical Testing Company. Originally, the company focused on testing high voltage electrical transmission and distribution systems.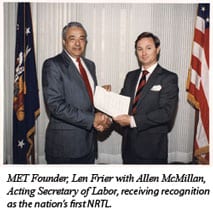 In the early 1970s, MET began product safety listing services. Later MET was among the first laboratories to perform EMI and telecommunications testing to the emerging FCC regulations.
In 1989, MET became the first Nationally Recognized Testing Laboratory (NRTL) in the United States for testing and certifying products to UL safety standards.
In 1992, MET changed its focus exclusively to testing and certification of electrical products – whether in the laboratory or at customer locations. Consequently, the name changed to the present MET Laboratories. Later that year, the MET test report became accepted in 30 countries through the IECEE Certified Body (CB) Scheme.
From 1999 to 2012 MET established operations in 5 new locations world wide. These included a full service laboratory in Union City, California, operations in Shenzhen, China, full service laboratory in Santa Clara, California, full service laboratory in Austin, Texas, and operations in Milan, Italy.
MET has been a pioneer in testing and certification services and continues to be in the forefront of the electrical standards industry.
MET Labs – The First NRTL
In the 1970s and 1980s, MET made headlines by challenging UL's dominance of product safety certification. In 1989, MET's efforts were rewarded by the Federal government by becoming the first Nationally Recognized Testing Laboratory (NRTL) in the United States.
As the first NRTL, MET was the first lab to provide manufacturers and electrical inspectors with a viable alternative for product safety certification. Today, MET continues to be a leader in testing and certifying to national and international standards, and offering cost-effective and timely solutions to compliance problems.
MET Laboratories is the better UL alternative. For a complete listing of standards to which MET tests and certifies under the NRTL program, visit MET's scope on OSHA's website.
The MET Mark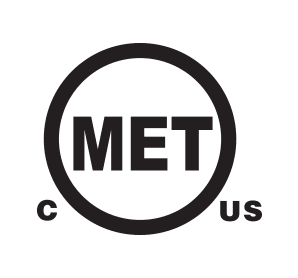 The MET Mark for product safety is accepted throughout the United States and Canada.
MET Product Safety Certification LogoOur NRTL designation means the MET Mark is acceptable under Federal law for products used in workplaces throughout the United States. In addition, the MET Mark has also been approved by states, cities, counties, and other jurisdictions nationwide that maintain their own standards for product certification. MET is accredited by the Standards Council of Canada for approval throughout Canada.
The MET Mark indicates to consumers, OSHA inspectors, local electrical inspectors, and purchasing agents that the product complies with the applicable UL or CSA standard. The MET Mark eliminates any questions about the product's acceptability.
Convert your existing NRTL listings to MET. Learn of the benefits of switching to MET. Some restrictions apply. Talk to a sales representative for details: 410.354.3300