Illuminate the Path to Success With Revolutionary Solutions Engineered to Empower Manufacturers To Conquer The Industry Globally
Unleash Your Potential. At Eurofins MET Labs, we understand the burning passion that drives manufacturers in the lighting and electric signs industry. We know that standing out in this dynamic market requires more than just meeting regulatory standards – it demands innovation, reliability, and the ability to overcome complex challenges. That's why we've developed revolutionary solutions that will propel your products to unprecedented heights.
Illuminate the future by partnering with Eurofins MET Labs. Our approach to testing and certification ensures that your lighting and electric sign products not only meet industry standards but also exceed customer expectations. Together, we'll revolutionize the way the world sees and experiences illumination, igniting your success in the market and propelling your brand to new heights.
Illuminate the Path to Your Triumph:
The Recognized MET Certification Mark: We were the catalyst that drove the creation of OSHA's NRTL program. More than 35 years ago, we became the first NRTL and opened the market to give you a choice in testing providers. Our MET Mark is trusted and recognized for U.S. product safety compliance needs.
Speed and Service: Our labs are at your service, and optimized like no other to deliver service on your timeline without long queue times
Transparency & Communication: Our unrivalled MetTrak portal offers end-to-end visibility on project status and real-time, optional text message updates.
Expert Support: We offer you access to ad hoc expertise that keeps you a step ahead and helps you respond in the event of compliance challenges.
One Provider. Robust Solutions:  From global market access via product safety compliance to EMC testing, to Energy Star program services, we are a single provider that van meet all your needs.
Customer-Focused, Responsive Investments: We are part of Eurofins, the world's largest laboratory network. We have a track record for unparalleled investment in building new labs in emerging markets and establishing new state of the art equipment and capabilities in response to demand. We strive to stay a step ahead and be everywhere you need.
Product Safety Testing & Certification Capabilities
Hazardous Location Testing: We can provide a single laboratory source for all necessary certifications, whether you need certification for North America, Europe, or other international destinations. With full ATEX, IECEx, NRTL, and MSHA testing and approval services, we give you the ability to deliver hazardous location products to any market under a single test plan.
On-site Field Evaluations: Whether you're an AHJ needing to guarantee safe code-compliant installations, need help getting your product(s) into the North American market, or have an unlisted product in the workplace requiring a Field Evaluation, our team is there to help 24 hours a day, seven days a week.
Global Market Access: Expanding your business across international borders presents a unique set of challenges. Our vast knowledge of international regulations, certifications, and standards ensures a smooth path to global market access. We assist you in overcoming localization barriers, bridging cultural gaps, and simplifying the certification process, enabling you to confidently enter new markets and seize exciting opportunities worldwide.
Electromagnetic Compatibility Testing (EMC): We evaluate your products and systems to any number of electromagnetic conditions in our state-of-the-art EMC labs helping you bring your product from development to end use faster and more cost-effectively.
Here are the standards MET tests and certifies lighting equipment to:
UL 48 Electric Signs
UL 153 Portable Electric Lamps
UL 676 Underwater Lighting Fixtures
UL 924 Emergency Lighting and Power Equipment
UL 935 Fluorescent Lamp Ballasts
UL 1433 Control Centers for Changing Message Type Electric Signs
UL 1573 Stage and Studio Lighting Units
UL 1574 Track Lighting Systems
UL 1598 Luminaries
UL 1786 Direct Plug-In Nightlights
UL 1838 Low Voltage Landscape Lighting Systems
UL 1993 Self Ballasted Lamps and Lamp Adapters
UL 1994 Low Level Path Marking and Lighting Systems
UL 2108 Low Voltage Lighting Systems
UL 8750 Safety of LED Equipment for Use in Lighting Products
UL 8752 Organic Light Emitting Diode (OLED) Panels
EN 60598 Luminaires – General Requirements and Tests
CSA C22.2 NO. 9 General Requirements for Luminaires
CSA C22.2 NO. 12 Portable Luminaires
CSA C22.2 NO. 89 Swimming Pool Luminaires, Submersible Luminaires and Accessories
CSA C22.2 NO. 166 Stage and Studio Luminaires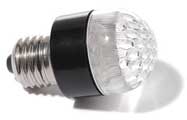 MET Laboratories Inc. is recognized by the EPA as a Certification Body for the ENERGY STAR® Program for:
Luminaires (including sub-components)
Integral LED Lamps
Set-Top Boxes and Cable Boxes
---