Nebs testing
NEBS (Network Equipment-Building System) testing is a set of standards and testing procedures used to evaluate the environmental and functional performance of networking equipment and other electronic products that are deployed in network equipment rooms (NERs) and central offices (COs).
NEBS is a comprehensive testing program that covers a wide range of criteria, including electrical and mechanical safety, electromagnetic compatibility (EMC), fire and smoke, and environmental conditions, such as temperature, humidity, and vibration.
NEBS testing is an important aspect of product development and certification in the telecommunications industry, and is a critical aspect of ensuring the reliability and safety of networking equipment and other electronic products. By complying with the NEBS requirements, manufacturers can help ensure that their products are robust, reliable, and safe for use in the telecommunications environment.
Our extensive capabilities include complete NEBS testing at our lab facility in California.
---
Bundle ALL Your Certification Requirements with MET: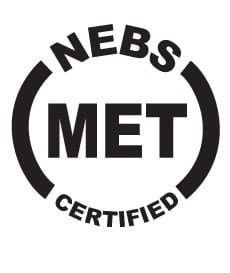 NEBS Certification
AT&T ATT-TP-76200 Testing
R&TTE Directive / CE Certification
We can save you time and money by creating a custom test program that integrates domestic and international regulatory compliance with NEBS testing. Our one-stop approach eliminates the need to coordinate testing among multiple test facilities. As a Conformity Assessment Body (CAB) under the US-EU Mutual Recognition Agreement, our testing to ETSI requirements has even more value.
Along with superior capabilities, we have the customer service to match. Whether it is a mature product or a product in the initial design, Eurofins will work with you to obtain complete compliance.
---
NEBS Requirements
NEBS (Network Equipment Building Systems) requires products to be evaluated in extreme environments and phenomena. The key NEBS tests include:
EMC/EMI
Humidity
Vibration
Fire
Surge Power Fault
Temperature
Altitude
Lightning
Earthquake
Airborne Contaminants
Acoustic
Four in-house labs at each of our NEBS facility afford flexible scheduling and complete testing to NEBS requirements:
EMC/EMI – GR-1089-CORE, Sections 2, 3
Environmental Simulation – GR-63-CORE, GR-487-CORE, GR-950-CORE, GR-3108-CORE, GR-49-CORE, GR-4228-CORE
Telecom – GR-1089-CORE, Sections 4-10
Product Safety – US and Canadian Product Safety Certification
Additional requirements include an NRTL evaluation for electrical product safety. Wes provide the NRTL certification for electrical product safety which is referenced in NEBS and OSHA requirements. We are the first licensed NRTL in the country, and continues to be top-ranked.
Eurofins has developed a keen understanding of the complexity of NEBS requirements. At Eurofins, each test program is customized, based on factors such as equipment type, installation conditions, and location.
These factors must be properly addressed prior to testing in order to avoid costly and time-consuming re-testing. We stay current on changes to the requirements or applicability of the various RBOCs (Regional Bell Operating Companies), so we can provide the most up-to-date service available.
---
Nebs Certification Service
We set the standards for customer service by which other labs are measured.
We employ full-time project coordinators who serve as customer liaisons to assure the smoothest possible test program. Our NEBS coordinators are knowledgeable in NEBS requirements and our staff, facilities, and procedures.
The NEBS coordinators work together as a team with the project engineers and with customers. The customer is always able to interface directly with our engineers and NEBS coordinators. The customer is always welcome to send a representative to witness the testing.
We have several customer lounges and provides fax, copy, and internet services. Additionally, our proprietary METrak Online service gives the customer the tools to track testing progress in real-time, online, from any internet-ready location.
If anomalies are discovered in the test results, the customer will be updated immediately. We experienced professionals will quickly assist in attaining reasonable, cost-effective solutions. Without delay, we can re-test to evaluate the solutions. We offer the most flexible test schedule in the testing industry. We can work every day of the year, at every hour of the day.
We can save you time and money by creating a custom test program that integrates domestic and international regulatory compliance for NEBS.
---
Recognition
We work closely with RBOCs to apply NEBS standards to their requirements. We also work closely with AT&T and their NEBS standards.
By working so closely with the RBOCs, Eurofins has developed a report format that provides a level of detail that exceeds their expectations. This reduces the need for further scrutiny and accelerates the evaluation time of the purchasers. As an independent third party and an NRTL, Eurofins delivers reports that provide credibility.
By working closely with manufacturers, holding regular, timely NEBS seminars and workshops on both coasts, and providing compliance assistance & design review services at the manufacturers' facilities, we keep the process as surprise-free as possible.
Products get to the market first when we test.
---
Our NEBS Certification Mark
Our NEBS by MET logo is designed to support your marketing efforts. The MET Certification logo for NEBS indicates to your customers that your products have undergone scrutiny by one of the most-recognized independent test labs in the industry. This logo has been used by manufacturers in print ads, brochures, websites, and trade show exhibits.
We provide a Certificate of Compliance, a valuable marketing tool for manufacturers. The Certificate clearly indicates the scope of compliance for the product and references the report.
---