Fiber optic networks and their installed components operate in a variety of environments and industries around the world. From military systems to telecommunication networks, fiber optic components experience a wide range of usage conditions and must be tested to effectively characterize their performance in any setting.
As the world's leading independent, third-party testing laboratory, we provide a full testing solution for optical component characterization. Using the swept wavelength test method, we collect wavelength measurement data and perform a full analysis to give you a complete picture of insertion loss, polarization dependent loss, return loss and directivity.
Swept wavelength testing allows for the performance of fiber optic components to be characterized with extreme precision. When characterizing component performance, the swept wavelength method allows for multiple channels to be tested simultaneously. This provides precise wavelength dependent performance measurements with minimal required testing time.
Our MAP swept wavelength system and state-of-the-art optics lab allows us to meet all of your optical component testing needs. With over 50 years of product testing experience, our single-source laboratories and expert staff help you deliver compliant, high-performance products to market. In addition to optical component characterization, MET can also perform testing for environmental hardiness and 100% performance verification for production models.
---
Related Testing Standards:
IEC 61300-3-2 – Polarization dependent loss in a single-mode fibre optic device
GR 1209-CORE – Generic Requirements for Passive Optical Components
IEC 61300-3-29 – Spectral transfer characteristics of DWDM devices
GR 1221-CORE – Generic Reliability Assurance Requirements for Passive Optical Components
Component Testing Capabilities
WDM/CWDM/DWDMs
Connectors
Plugs
Optical Fiber Jumpers
Attenuators
Adapters
Optical Switches
Dividers
Isolators
Wavelength Filters
Couplers
Films
Related Pages and Testing Capabilities:
Our end-to-end testing solutions evaluate your laser products to product safety and environmental standards; helping you meet critical standards that bring your equipment to market faster and more cost-effectively.
MET's streamlined testing solutions and extensive laboratories give you the capability to complete all your fiber optic testing for cables and products from a single location.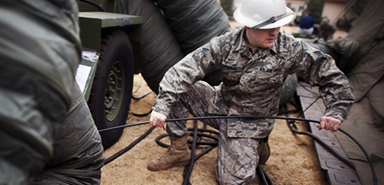 Validate your fiber optic products to stringent military standards. We perform testing to the optical, mechanical, and environmental characteristics of your fiber optic products to ensure critical performance.
With the capability to test and certify all four classes of lasers for acceptable optical radiation limits, MET helps you take your product to market faster and cost-effectively.